Boyish is a monthly newsletter of positive stories of Indian 🇮🇳 men who defied male stereotypes with the path they chose in their lives.
Gender stereotypes affect everyone and while several initiatives are underway to elevate marginalised folks, the boys in India have been left out to fend for themselves. Fewer than 5% of organisations in India who care about gender-equality run programmes that work to improve boys' attitude and behaviour1.
Traditional understanding of masculinity is phasing out (thankfully) but the new normal, the new vision of masculinity is still not clear. Boys are uncertain whom to emulate, how to behave, and as a result, they are experiencing a "purpose void".
This collection of stories intends to discuss and reflect on the stereotypical views of masculinity while simultaneously illustrating examples of Indian men who broke these stereotypes in their own unique way.
Whats in the Newsletter?
12 essays delivered over the course of a year on the first Saturday of every month.
Each essay discusses a stereotype about men and masculinity and then tells a story of a man who broke it.
What does an email look like?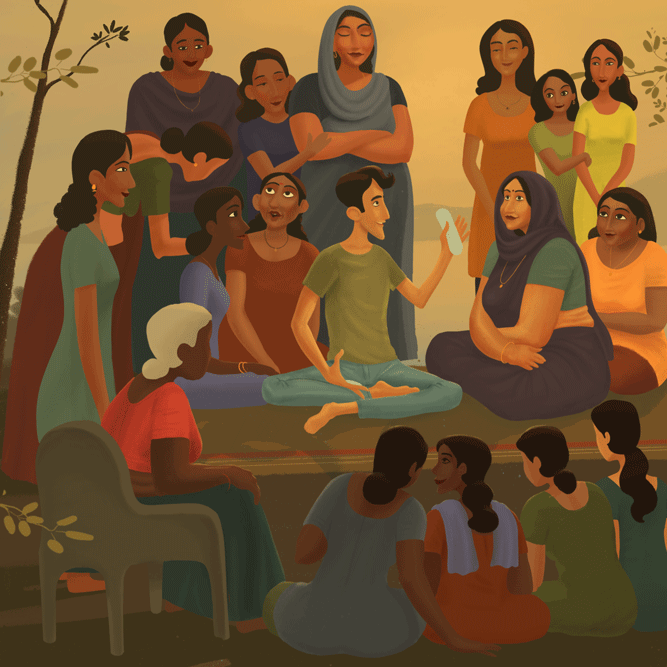 The Period Man
– Nineth Issue
Who is this Newsletter for?
1. Parents of young boys.
2. Folks who like to educate themselves about gender stereotypes.
3. People interested in hearing rare journeys of some amazing men doing or have done unconventional work.
4. A lot of men, no seriously!
Curious About the Behind The Scenes?
My goal is to be transparent with the finances of this work in the spirit of transparency and to encourage other indie writers/creators to pursue their projects. Hence, here is a quick rundown of the costs related to this project.
Illustration – 60k INR
Research – 40K INR
Editing – 20K INR
Miscellaneous – 20K
Exploring the terrain between a blog and an e-book download?
Blogs are dead. E-books are lifeless, corporatized forms to market and sell. So how does a new, amateur writer try to get his point across?
This is my attempt to navigate the complex terrain of writing online and trying to grab perhaps the most valuable thing in this whole shebang: a reader.
Reading online is a fraught experience so I have tried to pay equal attention to the experience around reading this content as to the content itself.
You see a monthly newsletter because I want you to slowly absorb what I have to say.
I dress up my writing in vivid, dreamy illustrations because I value images that do the job which words can't.
Once the seed of "I want to write from my experiences of growing up as a boy" were planted, it took several iterations and plenty of time for them to bear saplings. The beginning was marked by a haze around what I wanted to say exactly. I carried out the research work hoping for a serendipity and it was very depressing whenever I stopped during that process to view the research work objectively.
Since I was writing about someone else, I considered interviewing as an integral part of the process. It did click for me for certain essays but largely, my requests were lost amidst the thousand of others that I am sure some of these esteemed folks receive. I relied on the folklore available on internet and books when an interview was not possible.
Finally the point of view arose after several months of doing soulless meandering and slowly the vision opened up in front of me. As I understood what I wanted to say, I realised more mechanics around how I can say it better. Hence, I spent time looking for an "editor" who can trim the fat around my writing. I then paired my writing with the dreamy illustrations of Ajin Mohan, whose work filled in the blanks of my words.
I am extremely thankful to everyone involved in behind the scenes and trusting me with their time.