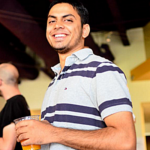 Born in 🇮🇳. Now living in 🇺🇸
I currently live in the San Francisco, California and was last working at Square. Currently, I am exploring my next adventure.
Professionally, I sit at the intersection of a few different disciplines: software engineering, software interface design and product management. I have shipped software for corporations, open source and for my own projects.
I enjoy reading books and somewhere while reading, I decided to try my hands at making them as well. I am passionate about making more children's books for kids in India, so if you are a book maker interested in collaborating, holler at me.
I'm @lifeinafolder on Twitter — my current social media platform of choice, so come say hi 👋🏽.